Tulsa novelist Deborah Camp talks about turning love of 'sexxxy romances' into a career
Tulsa's Deborah Camp talks about what it's like being a romance novelist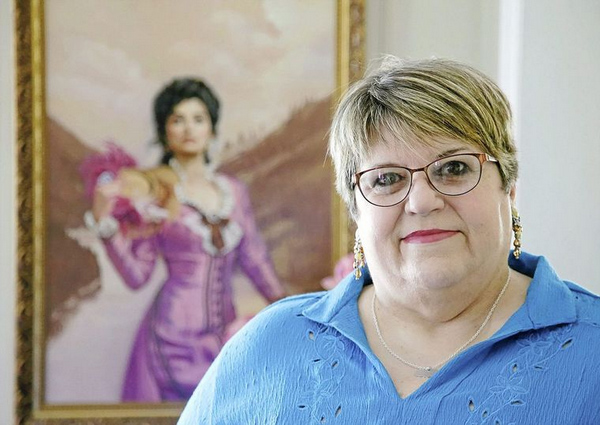 By RITA SHERROW, World Scene Writer
Photos by JOHN CLANTON, Tulsa World
Her heroes are misunderstood and flawed.
Her heroines are sassy, independent thinkers but with some insecurities.
"They're a lot like me, except a lot prettier, and they don't have as sharp a tongue as I do," said Deborah Camp, Debby to her friends, a successful Tulsa writer with more than 35 novels to her credit.
That's a lot of novels for any writer, but when you add the word "romance" in front of it, reactions aren't exactly what you would expect, she said in a recent interview.
"I was shocked at the disdain I got from people when I told them I was published," said Camp of people's response to her writing in the romance genre.
"And then when I said, 'Well, it's a romance,' they would look at me like I belched in public. I thought 'Oh wow, this is strange because I had seen other people published, and that wasn't the reaction.' But then I realized that that's just what we were going to have to put up with. It's been 30 years. I'm used to it now."
A former newspaper reporter and editor, Camp has been writing full time since graduating from the University of Tulsa. An avid reader of romance novels, she started writing her own novels at night and on weekends around her day job. In the 1970s, she took a week of vacation and wrote a book in that week. She sold that first book to Simon & Schuster.
"When I quit work, I had saved up enough money to last me a year, so I figured if I had one year of doing exactly what I wanted, I would be a blessed person. And then, after that year if it was not going well I would have to find another job. No biggie. But I never had to find another job. So I could go freelance."
Camp, an Oklahoma Authors Hall of Fame inductee and charter member of the Romance Writers of America, said romance writers are still "kind of the dark horses" of the writing world because women are primarily the readers.
"Just like with 'Fifty Shades of Grey,' which was such a scandal for so long," said Camp, who is widely published in nonfiction, writes and edits for a magazine focused on small businesses, and taught fiction writing for more than 10 years at a community college.
"I loved both books ("Fifty Shades" and its follow up "Grey"), but I have read much sexier books. It was such a scandal because it was written for women and kind of erotic and women were made to feel embarrassed to read it. It perplexes me." "'Fifty Shades' is a tender sort of love story about a guy physically and sexually abused and because of that chosen a strange lifestyle because he has psychological issues. All you heard about it was 'How are they going to film it?' like it was so naughty that it can't be shown."
When romances are made into films, they are usually those written by male authors like Nicholas Sparks ("The Notebook") or Erich Segal ("Love Story"), she added.
Camp's latest series, titled the "Mind's Eye," centers around "two psychics who work with police nationwide to identify and track serial murderers." She's also working on another historical romance, at the request of fans.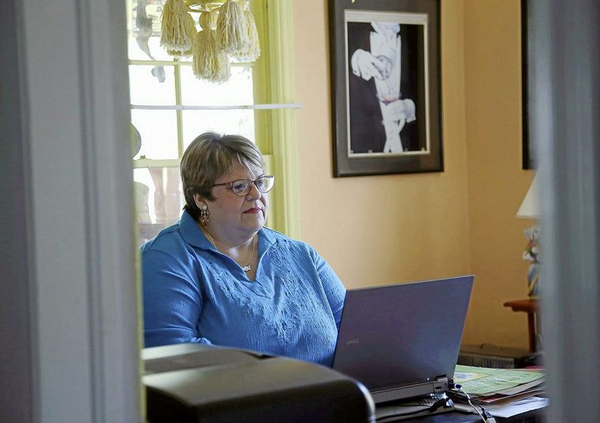 And, with the Internet, new fans are discovering her older novels, which are available on Amazon and Amazon Kindle, along with her newer books. Camp, whose books have been sold worldwide and printed in several languages, is doing blog tours and other social media to increase awareness and sales, and she has her own website at deborah-camp.com.
"It's just a whole new world, but you have to do it," Camp said. "Even big, big authors have to do it. Of course, the rich authors get to hire someone to do it for them, but most of us, 90 percent of us, do it ourselves. It takes up a lot of writing time."
Here's a Q-and-A to help Tulsans get to know this local author better.
How did you decide to become a romance novelist?
Romance novels are what I read. If a novel doesn't have a romance in it, I'm usually not that interested in it. When I worked the graveyard shift at the Tulsa World (obituaries and the weather, mind you), I read romances during my breaks. I kept thinking that I could write one. I'd tried my hand at it when I was editor at the Jenks Journal. However, I knew I needed help. Lo and behold, the Tulsa World sent me on assignment to cover a women's conference where I met my fiction writing mentors Peggy Fielding and Mary Alexander. Peggy Fielding taught me how to write and sell fiction.
How did you get started on your career?
I joined Peggy Fielding's Writers' Roundtable, the Tulsa Nightwriters Club and Oklahoma Writers' Federation. Through them, I learned how to write fiction, how to acquire an agent, how to prepare a manuscript and send it to a publisher. Although I have a degree in journalism, I didn't know how to write a novel, so I learned from professionals and hired a literary agent. I submitted a novel to Simon & Schuster. They were starting a romance line (Silhouette), and I was one of the first batch of authors they signed.
What has been your proudest moment?
Nothing will ever top that first phone call from Simon & Schuster. I wasn't home, so the editor left a message on my phone, which I didn't hear until Friday afternoon when I got home from work. I couldn't call her back until Monday morning and I was a basket case all weekend. I was terrified that she was calling to tell me that she was sending the manuscript back and please don't send her another ever again. But, instead, she said they wanted to discuss a contract to buy my book. To this day, I don't know how I kept it together long enough to talk to her without blubbering.
What are you hoping to see happen in Tulsa in 2015?
I love what's happening in the Pearl District and Whittier Square. It would be cool if we continue to develop pocket neighborhoods and districts that have their own signature charm. I want to see the fountain at Swan Lake repaired and running again (it is a scene in my new book). And, most of all, I would like for Tulsa to have an amusement park. It was a travesty when Bell's Amusement Park was forced out so that the fairgrounds could have a bigger parking lot (or whatever the reason was -- was it ever really explained?). We lost a big chunk of what makes Tulsa fun and unique when Bell's closed.
What are you watching on TV lately?
Oh, gosh. I'm a reality TV junkie. I like most of the "Real Housewives" shows, "Dance Moms" (although I think it's getting nuts), "The Little Couple," "Deadliest Catch" and "Flipping Out." I hate "The Bachelor" and "The Bachelorette." I refuse to watch those. Naturally, I love "Downton Abbey" and a lot of the programs on PBS.
What are you reading?
I read a lot and I read mostly romances (sexxxy romances). This week I've read "Manwhore" and "Manwhore Plus 1," "Beautiful Beloved" and "Yours All Along." I'm listening (on audio) to "Beg, Tease, Submit," and I'm reading "Beautiful Secret." I also like to read historical romances, but I'm writing one of those now, so I don't want to "muddy the waters."
What are you enjoying most about Tulsa these days?
The upcoming Gathering Place is very exciting and long overdue. I absolutely love what's happening downtown. When I was a kid, downtown Tulsa was the bomb! I mean, it was soooo exciting to go there to eat, shop, see parades or go to a movie. When I worked downtown in the early 1980s, it was changing, shrinking and dying. It's been dead for a long time, so seeing it revived is thrilling. Downtown Tulsa is beautiful, and now new generations are discovering it. I hated to see the ballpark move, but I'm so glad that it found a home downtown. We have Kathy Taylor to thank for that!
What are you hoping friends/family have learned from you?
To value friends and family. No matter how old you are, when you don't have any family anymore, it's tough. Thank God I have good friends.
What are you doing for fun?
I volunteer as a foster home for Animal Rescue Foundation, and I have fun with those crazy people. I have some old writer buddies who keep me in giggles, and we get together to catch up on each other, talk about books and whine about getting older. I like to go on "day trips" with my guy and explore small towns and tourist spots.
What do you think people will be most surprised to learn about you?
That, after more than 35 years as a novelist and more than 40 novels published, I feel like a novice. The industry has changed so drastically that it seems we're all trying to catch up and change with it. It's exciting, but very exhausting.